Istanbul's winding, colorful streets beckon you to rush in and lose yourself. In every corner you can encounter different textures of buildings and lives. Here are a few of my favorite streets to explore:
Kadife Street
Kadife Street, or as it is usually called, "Barlar Sokağı" (yes, "Bar Street"), is where the heart of the Anatolian side beats. Being a very popular place for university youth, it may seem like an underground spot. Yet, there are bars to suit every preference, and it is a great place to hang out while enjoying good music. It becomes even more fun in the wee hours, when people start to sit and drink on street. (For more information check out this post.)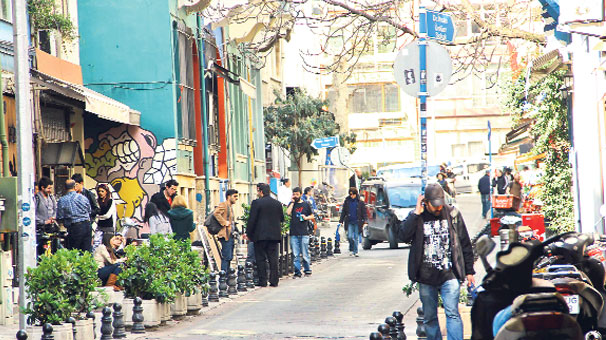 French Street
From sophisticated rows to alleys lined with"shot-stops", each street in Taksim has its own personality. However, French Street takes it a step further, presenting you a whole different world, with its French-style cafes lining the a staircase that substitutes for a steep street. At night even if every boite seems crowded, eager proprietors will find you a seat to enjoy live Turkish music. (One note of caution: be sure to double-check the cheque.)
Soğukçeşme Street
On this very beautiful street situated between Hagia Sophia and Topkapı Palace, you can find typical Ottoman houses of the 19th century. These wooden houses were restored in 1986 and now nine of them serve as a hotel, decorated in the 19th century style. (By the way, for other boutique hotels in the area, check out this post.)
Küçük Hendek Street
The Galata Tower is one of the important symbols of Istanbul and Küçük Hendek Street is the best spot to photograph it! The tower looks even prettier between the old-fashioned apartments.
Nacak Street
This street is not as fancy as the others but totally a hidden spot just waiting to be photographed in Üsküdar. After you pass the beautiful birdhouses, you can drink tea in Fethi Pasha Grove under the trees.