The subject of luggage tags came up on one of my adventures with some travel mates and I was amazed at how such a mundane topic could generate so much discussion. We were all using different types of luggage tags, different approaches to preparing them and held different views on what information they should contain. I've distilled the highlights of our discussion into a list of luggage tag tips.
Assume you'll lose sight of your luggage
Even if you are a carry-on traveller, never assume you won't be separated from your luggage. With so many airlines charging fees for checked baggage, competition for available space in the overhead bins will inevitably increase and your bag may end up in a different section of the cabin. Gate checking may be your only option if the aircraft has smaller overhead bins or if they're all full by the time you board. Or, the unexpected may happen. I was once separated from my luggage when the plane I was on made an emergency landing in Regina and passengers disembarked via an emergency chute far away from the terminal.
Add "luggage tags" to your packing list
Luggage tags are very important and not something to be overlooked or relegated to afterthought status at the check-in counter at the airport. There's a good chance those flimsy paper tags provided by airlines will not survive the flight. Include "luggage tags" on your packing list so they're not forgotten and have the necessary pre-trip attention they deserve.
Use lost-and-found tags
A lost-and-found tag helps hoteliers and hosts, airline and airport security staff or Good Samaritans initiate the steps to facilitate the return of lost possessions. My lost-and-found service of choice is the Canadian company ReturnMe (formerly Return-Moi). Durable tags are available in various shapes and sizes to affix to a variety of items, including a bag tag (and a key tag that could be used on a smaller bag). Each tag has a unique code that can be registered online. When an item is found, the finder visits the company's site or calls a toll-free number for instructions on returning the item at the company's expense.
Winner of the 2012 Innovation Award for use of technologies in a lost and found system,tag-a-bag uses NFC, QR, Cloud and mobile technologies to place lost possessions back in the hands of owners. Each tag includes a plastic card with a QR code and an NFC chip, and a unique serial number built into the company's URL listed on the tag. Registering a bag is straightforward after the user is prompted to download the free iOS or Android app. If a bag is found, the finder touches the NFC symbol with an NFC-enabled phone or scans the QR code to automatically open the tag-a-bag site. Or, the finder can manually enter the URL found on the tag and send a message to the owner.
Limit the amount of personal information on the external tag
If the information is visible to passers-by, it can end up being scrutinized by many people. A home address can alert would-be burglars that there may not be anyone at home and that it's an opportune time for a robbery. A home telephone number can be enough to provide thieves with a home address using reverse phone number lookup websites. The main purpose of a luggage tag is to provide the authorities or Good Samaritans with sufficient information to return a delayed, lost or stolen bag. Therefore, include just enough information in order to be contacted. These days, a name, cell phone number (don't forget the country code) and email address should be enough.
Match the name on your luggage tag with the name on the ticket
While it might be tempting to use initials as opposed to a full name, the carrier may be able to contact you much faster if its computer can match the name on the luggage tag with the exact name on the ticket.
Obtain durable luggage tags
A checked bag will be handled by different people and different equipment in all kinds of weather. Durability is critical.
My personal preference is to have a built-in luggage tag holder as part of the design of the bag. Some rolling bags have slide-in windows to place contact information. My eBags TLS Mother Lode Weekender Convertible has a zippered luggage ID pocket, as does thePacsafe Toursafe AT21 anti-theft wheeled carry-on.
Failing that, I like a tag with an adjustable strap and buckle, and a privacy flap to shield information from passers-by. An adjustable strap permits me to securely attach the tag to better safeguard it from rough handling by conveyor belts or baggage handlers. Strategically positioning the tag near a small zippered upper pocket means I can slip it inside while remaining attached to the handle. Some travellers place a tag on each grab handle as an extra precaution in case one becomes separated from the bag.
On my personal carry on/daypack, I use a version of the Scanner Bag. The folding zippered nylon pouch is designed to stow items such as a phone, watch, keys and coins as they pass through a security checkpoint scanner. While I don't use it for this purpose, I do like the design as a luggage tag, and as a secure place to store one of my secret stashes of emergency cash. See the Gadget Duck site for more information on the Scanner Bag.
It's usually a good idea not to advertise your country of origin, so avoid tags with a flag or readily recognizable national symbol. While it could be a catalyst for interesting conversations with travellers and locals alike, with so much turmoil around the globe and so many countries involved in the "war against terror," it's not worth the risk of attracting negative attention.
Other options include self-sealing laminating pouches containing a business card or an anodized aluminum tag with a stainless steel cable. Or, consider purchasing customized tags from one of a host of web-based companies. I can recommend Personalization Mall for its simple and straightforward process allowing the user to create unique designs from a wide selection of templates. I downloaded some favourite travel photos to create luggage tag gifts for travel mates.
A readily distinguishable luggage handle wrap with a built-in luggage tag can do double duty by helping to make a bag stand out among the sea of black bags. For one of my women friends I purchased a Smart Women Travelers Luggage Handle Wrap in a striking green colour. She loves it!!
Save the personal and trip details for the internal tag
A bag can be easily parted from its luggage tag so it's wise to prepare an internal tag. My internal tag reflects my itinerary. It lists each address and telephone number where I'll be staying, and the dates I'll be at each place. If I'm separated from my bag, the inside tag reveals phone numbers where I can be reached, and a complete address where the bag can be shipped. It prints on letter-sized paper, is inserted in a plastic page protector and packed on top of the contents of my bag where it can't be overlooked. In addition, a copy is placed on the door of the fridge at home for the benefit of stay-at-home family members.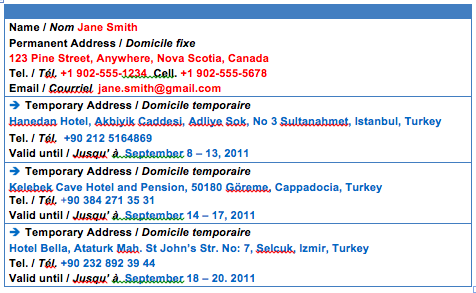 Keep luggage tag templates on file
Air Canada's Baggage ID card inspired the template for my internal tag. The template for my external card contains space for my name, email address and contactable cell phone number. If I'll be out of the country and not roaming with my cell phone number, I'll list the telephone numbers (including country code) where I can be reached at my destination. Completing luggage tags is so much easier if templates are kept on file.
Prepare external luggage tag inserts for each segment of travel
For multiple segments with different contactable telephone numbers, it takes so little time to prepare a number of inserts to take with you on your travels. Each one could contain your name and email address, with the respective telephone numbers of family, friends or hotels that are booked in advance. In countries where the plan is to pick up a local SIM card, those inserts could have a blank space for the assigned number to be inserted. It takes a little advance planning but well worth it if it facilitates the early return of lost luggage.
What strategies do you use with respect to luggage tags?
This post was originally published on Packing Light Travel, then reshared on Atdaa with author's permission.