If you are looking for a kid-friendly restaurant in Istanbul you won't have to look far. Istanbul is notoriously child friendly. In fact if you are coming from America it might even be something you may wish to prepare for. Where American's tend to be more private with their affection towards children, Turks lavish kids with attention. They are spoiled and coddled and doted upon by all. This makes for some very easy dining experiences with kids in tow. Except for the most high end restaurants, kids are quite welcome to dine out in Istanbul. While taking in the sights and exploring you would have no trouble popping into one of the untold numbers of small lokanta's and restaurants you along the way. The owners will welcome you and make you feel at home almost certainly paying special attention to your little ones. But if you are hoping to schedule your day with proven kid friendly establishments, here are some suggestions I compiled after quizzing women I know living with children here in Istanbul.
Molly's Cafe
This charming little cafe in the Galata neighborhood is a welcome respite from the hustle and bustle of Istiklal. Molly's, run by the Canadian expat Molly herself, offers a small homemade menu for breakfast and lunch and a much celebrated dessert menu. The cafe is small but extremely inviting, there is excellent coffee and free wifi, it's a very nice place to take a load off. But be warned there are no high-chairs at Molly's but the carrot cake should make up for that!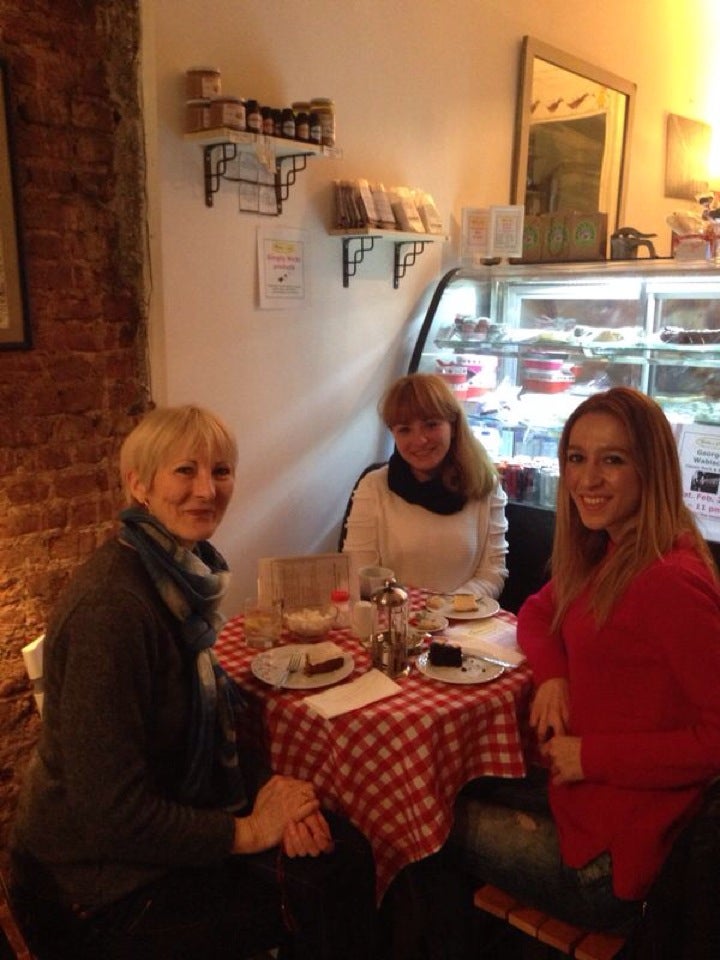 Kırıntı
This restaurant located in the Nişantaşı district is perfect for taking a break from some of the high end stores that neighborhood has to offer. After having your fill of Versace and Tiffany & Co. you can pass by the over-priced lunch spots where the ladies who lunch spend their afternoons, and stop into Kırıntı. It's open layout makes it an easy place to maneuver with both children and shopping bags. On the weekend there can be a line but the waiters will treat those standing in line with lemonades and small portions of chips and dip. Great for crashing blood sugar! Once seated there is a varied menu of both kid and adult friendly meals. The amiable waiters will also bring crayons and a special kids menu if needed.
Develi
Opened in 1912 this kebab house offering South-Eastern Anatolian cuisine is an Istanbul establishment. With 5 branches it is not to hard to find one. Develi Kebap uses only locally sourced, quality ingredients and has received plenty of press and accolades over time. But the most important accolade was the multiple suggestions by mom's themselves. The Etiler location even has a kids playroom where kids can go off and play while the adults enjoy the wide spread from this restaurants 100+ years of service and experience.
Bridge Cafe
Not to be confused with it's parent establishment, Bridge Restaurant, Bridge Cafe is the more low key and relaxed of the two. Located in the gorgeous Nakkaşteppe neighborhood, this cafe is ideal for relaxing and taking in the magnificent views of the Bosphorus Bridge and the Mosques which line the European side's skyline. You can enjoy the outdoor seating and their more upscale Turkish fare or simply enjoy your surroundings with a cup of coffee or a glass of wine.
Wagamama
It is normal while visiting to maybe want to switch up your fare, maybe try something different from Turkish cuisine. If it is Asian food you are looking for then Wagamama can hit the spot. This Japanese restaurant which is located both in Kanyon shopping mall as well as City's Nişantaşı shopping center have big tables to spread out and offer children's coloring books for excellent distractions and would be a great option for eating before or after a movie in the mall's cinema.
Kalender Tepe
Recommended for it's family oriented and lovely outdoor setting, Kalender Tepe in Yenikoy is an ideal place to dine with kids. Sitting outside kids can feel free to explore the shady park like environment with it's occasional duck or goose wandering by. It's also a place for adults to enjoy with it's slightly upscale menu and surroundings.

Big Chefs
Big Chefs is one in a handful of similar restaurants found here in Istanbul. It has a general Americanized menu and a cool modern atmosphere. Big Chefs is however slightly higher quality food-wise than some of the similar ones. What makes this a great restaurant to bring children is their Tarabya location. Sitting directly on the Bosphorus there is ample outdoor seating with beautiful views. The restaurant is very large both inside and out and on the weekends it isn't uncommon to see a table of chic parents brunching while their kids are seating at their own table, or simply off playing with the other kids. It's a vibrant environment although large enough that it isn't annoying for child-free diners.
I should also mention that the pedestrian passage in Kadiköy was highly recommended by moms. It's an entertaining place for kids and bustling enough that there are many distractions and the kids can run around a bit themselves. While tipping in Istanbul isn't mandatory a lot of times servers and restaurant owners will go above and beyond to entertain children, coddle them with attention and generally make your dining experience more relaxed and pleasant, and if that is a the case, a little extra for their service is much appreciated. Afiyet Olsun!