Even for an expat, a day spent walking along the historical peninsula of Hagia Sophia and the Sultan Ahmed Mosque makes the rich history of Istanbul come to life. Caroline and I decided to catch up after a hectic holiday season and spend quality time together in my favourite city. Although I've been living in Istanbul I rarely visit the old town, however on our journey I realized it's a place to be cherished.
The place was lively and crowded in the early morning hours. We enjoyed the chaotic atmosphere around these incredibly beautiful buildings while sitting on a bench in the best possible way—by eating simit, a quintessential Turkish street snack, which we purchased from a friendly vendor in front of Hagia Sophia.
The Grand Bazaar
A trip to the historical peninsula is never complete without a visit to the Grand Bazaar. With over 3000 shops there is always something new to see. Together we strolled around feeling delightfully lost in the small streets of the covered bazaar. There are a few vendors I never leave without visiting; no matter how complicated it may be to find them.
Our first stop was Tarkan Özbudak's tile shop to drink a tea and see what new designs he has. The Turkuaz Dalida Ceramic shop has been in Tarkan Bey's family for two generations and he has worked in his shop for 35 years. My dream is to have my kitchen cabinets filled with his plates, bowls and cups as I love his unique handmade Turkish designs. Before we headed for lunch we stopped for a Turkish coffee at Ethem Tezcakar Kahveci; this 103-year-old coffee shop was the first of its kind in the Grand Bazaar and has been run by the same family for three generations.
The shop offers teas, coffees and cakes. After enjoying a delicious Turkish coffee, I always have their "Çubuk Tarçın Çayı". This cinnamon tea is good for your stomach, cholesterol, and taste buds—it's delightful.
When you visit Istanbul's old town it becomes apparent that there aren't many options for real Turkish food around the area but luckily there's a hidden gem called Nar Restaurant. You'll find it on a busy shopping street outside of the Grand Bazaar looking down from the top floor of the building of the Armaggan shop. Only after Caroline and I sat down to enjoy our Ginger Lemonade did I realize what a soothing atmosphere Nar restaurant provides. It has a stunning mix of modern Turkish interior design, local antique art, and a compliment of relaxing music. It is a great place for a business lunch, family gathering, or a romantic night out. No matter the occasion though, this is a place to try Turkish cuisine. They have a lunch buffet, with a very great variety of cold and hot appetizers, vegetarian and vegan options, main dishes from all over Turkey, and a dessert buffet with a great variety of cakes or lokum a.k.a Turkish delight. Nar Restaurant focuses on healthy eating enriched with herbs you can find all over Turkey. Location
Nar Restaurant is part of a collaboration between different companies under one roof, which are interconnected but independent. Some companies that make up the partnership are: Nar Gourmet, which produces marmalades, jams, Turkish sweets or olive oils; the design company Armaggan, which has its jewelry, design and textile shop in the lower building of Nar Restaurant; the Turkish Cultural Foundation and the Istanbul Culinary Arts Center.
The Nar brand aims to produce Turkish food in a different way. The Culinary Arts Center researches classical Turkish and Ottoman cuisine and helps Nar Restaurant with the menu. The jams and marmalades are produced according to the seasons and available special ingredients such as Ottoman strawberries. Another very interesting project is the "Olive Oil Truck," which is a venture developed in collaboration with Ankara University. In this five-year project, they are targeting the problem of on-going loss of diversification of the olive tree variety throughout Turkey. To solve this problem a truck goes to different regions in Turkey and produces the olive oil directly in the truck. The ambition is to get the oil as fresh as possible while encouraging farmers to grow the trees local to their region.
The products of Nar Gourmet are sold at Nar Restaurant and used in the food you eat. I could taste the great quality of olive oil used in the preparation for the mix of cold appetizers, which ranged from imam bayıldı (eggplant stuffed with onions, garlic and tomatoes); muhammara (hot pepper dip); İzmir enginar (artichoke); dolma (stuffed vine leaves) to portakallı rezene (fresh fennel with orange). I loved the rich flavour of the appetizers, which was filled with unexpected spices and a fresh and healthy taste.
The journey of delicious foods of Turkey went on with the hot appetizers. I was very happy to taste Nar's "Konya etli pide", as it is one of my favourite version of pide with chopped beef, peppers and tomato. Also haşlama içli köfte, wheat dumplings filled with minced meat, was a delight. I never knew how much I love lamb meat until I tried the roasted lamb shoulder (kuzu tandır) and the grilled and marinated fillets of lamb on aubergine puree (kuzu kuşgömü). The meat was so tender and any dish that has aubergine in it wins me over every time.
Over dessert and coffee Banu Özden, the Project Manager at the Culinary Arts Center, told us that it is difficult to talk specifically about "Turkish food". Turkey is enriched by about fifty different ethnicities, which brought their own culture and incorporated their own cuisine with subtle differences in Turkey. It might be better to call it "Foods of Turkey." So she told us that one of desserts we were just enjoying "Trileçe," or three kinds of milk, originated in Bosnia. Turkey's seven different regions are separated based on their climate and soil, which yield an incredible variety of products. With an immense dedication and love for cuisine, the Nar brand brings these diverse foods of Turkey to be tastes and enjoyed by everybody.
On our way out we took the stairs down and got lost among the art, designs, textiles and jewelry on every floor. After this great lunch we decided to walk down to Galata Bridge. We had spent more time than I thought looking at the paintings and jewelry at Armaggan that I was surprised to see it was already afternoon. By now I should know that time just flies by in this city. I have passed over this bridge countless of times and every time I marvel at the colour the setting sun paints over the city, the fishermen on the bridge, the surrounding buildings and of course the Bosphorus. It reminds me again and again why I love this city so much. We walked along the pier through the upcoming area of Karaköy, where a café after another are springing up like mushrooms. Slowly we made our way to the beautiful neighborhood of Ortaköy.
Ortaköy
Ortaköy is a gorgeous part of Istanbul, with its great bars and restaurants directly at the Bosphorus. We decided to have a light dinner at House Café in Ortaköy. When we sat down I could not believe this beautiful view of the first bridge, the military school on the Asian side and the Ortaköy Mosque just a few meters away. As Yusuf, the manager of the House Café in Ortaköy put it, this view connects everything that one loves about Istanbul: sky, religion, water and culture. The white balanced interior of House Café gives the restaurant a very loungy feeling, which is perfect to enjoy a glass of wine, some food and the astonishing view.
I found the staff exceptionally nice and engaging and very willing to help you find just the right order for you. Their menu of world cuisine offers a great variety of salads, meat chicken, pasta, pizza and surprising healthy side orders such as sautéed spinach or root spinach. As our goal was to leave some room for dessert, Caroline and I finally decided with the helpful guidance of the staff to share the Mini Houseburgers, Risotto Balls with Goat Cheese and the Avocado and Mozzarella Salad. The food was very nice and fresh and with this perfect view we were up for a great start to the evening. Even though House Café is famous for its chicken chorizo, their meatballs and their thin pizza, with its wide variety of salads and wonderful desserts as Caroline put it, it is definitely "a women oriented restaurant."
You should definitely leave room for dessert at House Café. The chestnut and coffee cheesecake with its crunchy bottom and the taste of having coffee and cake in one piece, the light strawberry tart or the warm double chocolate brownie with white chocolate and topped with ice cream was the perfect end to such a foodie day. I would definitely recommend making a reservation for weekend evenings and for their famous Sunday breakfast.
Cihangir
After dinner we headed back to Cihangir, my favourite area in Taksim, to start our evening out with some cocktails at Geyik Coffee Roastery & Cocktail Bar. In this ever-changing city, Geyik is a place with a soul, which is brought alive through the guests who come for good conversations, the people who work there, and the love they put into their products. "Geyik" is a sarcastic expression for a "good conversation", as Yağmur Engin, the owner tells me. A good conversation, this is the whole idea that the bar is built around. Geyik produces quality coffee and cocktails in an inviting environment. The bar opened almost a year ago, while the construction was still going. Within two weeks the place already started to get crowded and the new "regulars" felt so comfortable that they even gave their own ideas about the bar's finishing touches. The idea to open Geyik came through Yağmur's love for quality coffee and quality nightlife.
I am really in love with this place and its beautiful interior: a mix of a hip New York apartment and a Canadian wood shed. Its open walls and wooden ceiling gives it such a homy feeling that when you enter you never want to leave again. It feels like the perfect hide out place that I always wish to have, away from your daily routines. The relaxed music in the background is a suitable companion for the humming of conversations from the guests, whether they are the shy couple on their first date, the old friends or strangers who just met. The other part I love about it that it combines two of my favourite things in the world in one place: coffee during the day and cocktails in the evening. Perfect.
Yağmur started to learn about coffee brewing at home, where she studied and tried out different brewing techniques and visited coffee shops during her vacations. Serving good coffee is influenced by the bean, the roasting process and a continuous process of learning and experiencing. They started with roasting the coffee at Geyik, but now they have expanded their business and have opened their own roaster with their roaster Altuğ Başer in Okmeydanı. My first cocktail was 'Cable Car' - black and white rum mixed with orange liquor and lemon juice. The sugar and cinnamon coating on the glass perfectly accompanied the mix of the solid, sweet and fresh taste. The cocktails are inspired by their friend's bar "Mag" from Milano and based on which alcohol you can get in Turkey. Uğur Tekebaş is the mixologist who competes at world-class bartending competitions, you can try his "Dede" signature drinks at Geyik. The whole team tries to make what they can do best and to make the best out of the possibilities, share ideas, knowledge and debate about how to create good coffee and cocktails. They stay all together even after closing time as Geyik has become their second home. With a growing coffee and cocktail culture in Turkey, the Geyik team aims to explain what they learn to the guests, to answer their questions and give them a basic knowledge of coffee brewing and mixology.
Another cocktail I enjoyed was 'Martinez' - Vermouth, Maraschine, Bitters and Gin. As I love Gin, this cocktail was just according to my taste. Geyik is about good drinking, not a place to get drunk, but a place to come before your night out and taste what you are drinking. It is a place where you can feel safe and comfortable to go to a bar on your own as a woman to have a chat. A place where you can get coffee and croissants early in the morning and cocktails mixed with live blues music with Allen Hulsey on Sunday evenings.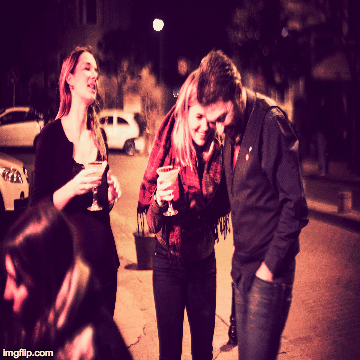 After such a great day with such delicious food and an amazing start into the night, it was time for us to go dancing at Gizli Bahce, Kasette and Rote Luzi. However, this is another story.
Special thanks to our photographer, CizgiliPijama for these great shots.
Atdaa also would like to thank Nar Restaurant, The House Café, and Geyik Coffee Roastery & Cocktail Bar for hosting our crew and providing complimentary services.